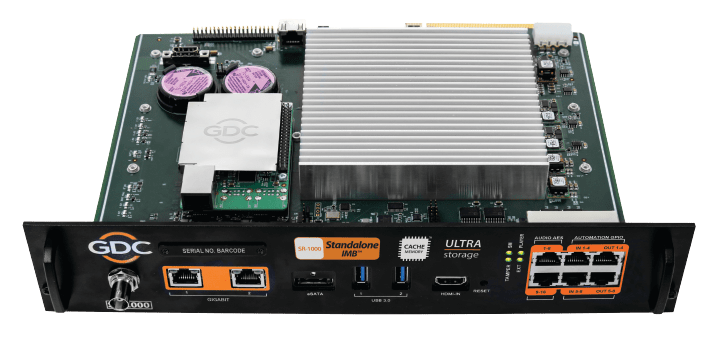 Standalone Integrated
Media Block™
SR-1000
The time-tested IMB with proven consistent performance
GDC has been at the forefront of cinema technology development since the advent of digital cinema. From a commitment to introducing first-to-market solutions to providing outstanding customer service, GDC is also recognized globally as a leader of integrated media block (IMB) technology. The diskless SR-1000 built-in with CineCache™ 2TB is the company's sixth-generation digital cinema media server designed for near-zero maintenance and minimal total cost of ownership. With its future-proof flexible architecture, SR-1000 offers affordable upgrade options for 4K and a built-in cinema audio processor with crossover.
Key Benefits of SR-1000 Standalone IMB™
With built-in embedded power electronics used in medical and military products, the overall system stability is ensured. SR-1000 is SGS certified for 100,000 hours MTBF.
Compatibility with Series 1, 2, 3 and 4 Projectors
The SR-1000 IMB seamlessly integrates with Series 1, 2, 3 and 4 projectors including Barco, Christie and NEC to ensure highly reliable and secure content delivery.
The SR-1000 IMB is designed with diskless CineCache (built-in cache memory) available in 2TB offering 3 key advantages:
Content ingest and playback can be performed concurrently without local HDD storage in 30 minutes.
Incredibly fast content transfer across IMBs only taking approximately 30 minutes.
High-speed and high-reliability playback at 120 fps-per-eye in a 3D dual projector system.
* The running time of an average movie is between 90 and 120 minutes.
Supports the Playback of Thousands of Movies
Take full advantage of show scheduling with Ultra Storage technology which is capable of storing over 2,000 movies when combined with Cinema Automation CA2.0. The content is available for playback on any screen, any time. You no longer need to ingest content to each screen for playback, saving hours of time for content management operation.
Built-in Wi-Fi with Intuitive Web-based User Interface
Both audio and video features can be configured and controlled remotely through the easy-to-use web-based UI. The web-based UI connected to SR-1000 built-in Wi-Fi is user-friendly and intuitive. With drag-and-drop, filtering and navigating functions, operators can easily switch between tabs or pages. Other than accessing the UI through a computer or a laptop, wireless access is also enabled by using handheld devices such as a smartphone or a tablet.
Built-in Cinema Audio Processor
With the built-in cinema audio processor option, SR-1000 offers the capability to provide superior sound designed for 5.1 and 7.1 PCM uncompressed surround sound functionality – the purest digital sound not "contaminated" by compression. The cinema processor license that can be procured remotely from GDC Technology, unlocks the optional built-in cinema audio processor's features. The embedded robust audio processing engine can achieve precise sound system calibration of the theatre by supporting
5.1 / 7.1 audio equalizer (EQ)
– 1/3-octave graphic EQ with independent bass and treble controls (non-LFE channels)
– Parametric EQ (choice of dedicated general LFE settings or SMPTE standard LFE settings)
2-way crossover with selectable filter type and configurable slope
Fader (gain adjustment), global and individual channel delay
Uncompressed audio processing (including LPCM on HDMI input)
Provides booth monitor output
Built-in signal generator, mute with configurable fade in/fade out times, wide dynamic range
Audio input level display, easy configuration back up and restore
Channel routing & duplication
GDC offers an optional Audio IO (Input-Output) Box AIB-2000 for SR-1000, with a built-in 8-channel premium quality digital-to-analog converter (DAC), to interface with external audio equipment such as analog amplifiers, booth monitor, microphone, and media players.
Solution for SR-1000 IMB and Digital Amplifiers*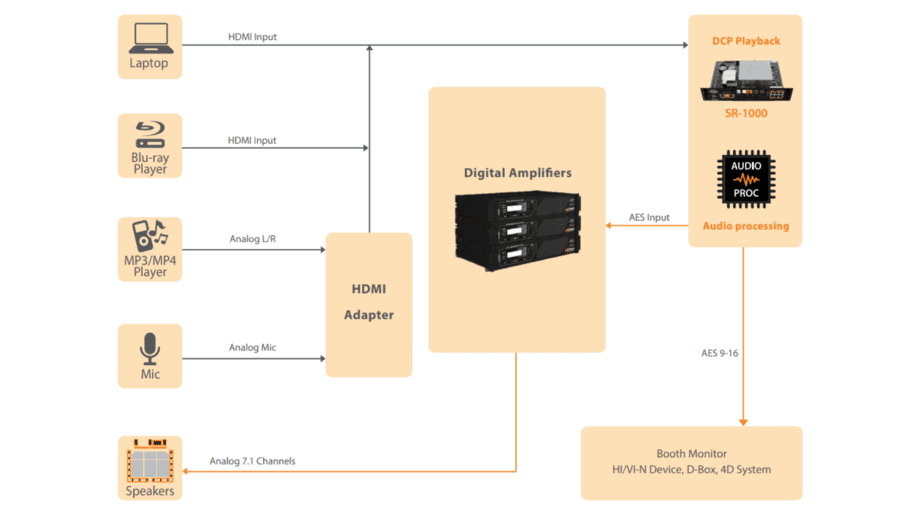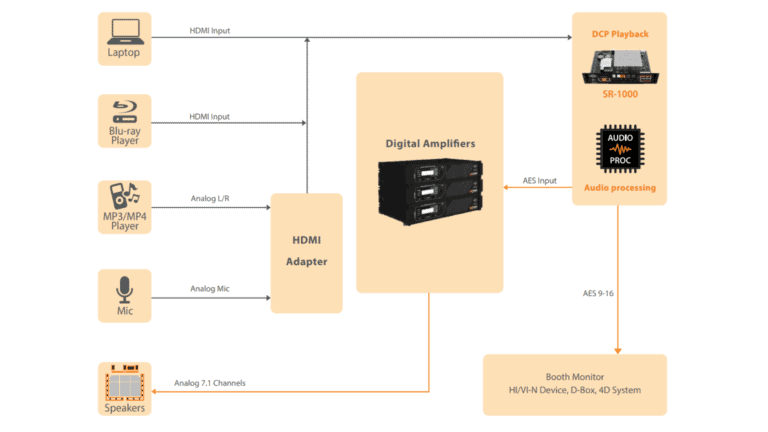 SR-1000 IMB and Optional Audio IO Box to Interface with External Audio Equipment*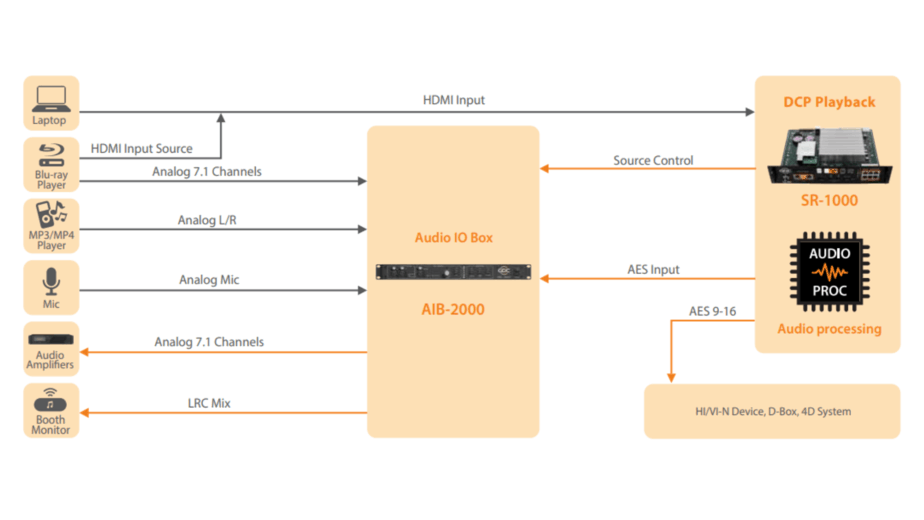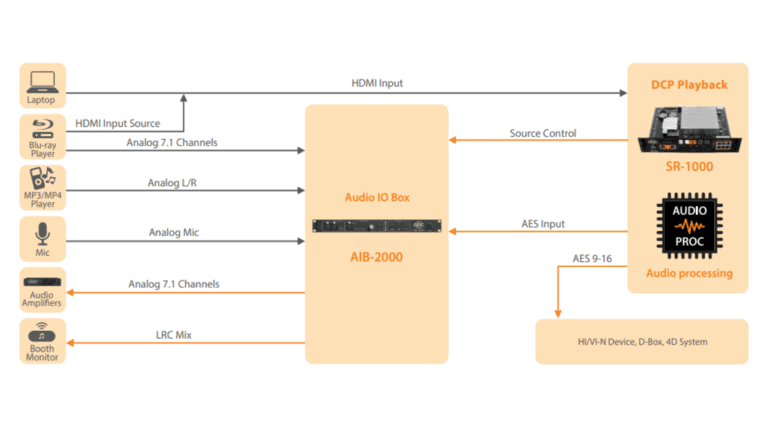 *The actual system configuration may vary depending on specific application requirements. Please contact GDC for further details.
SR-1000 Standalone Integrated Media Block™
1 Check with GDC on specific frame rate & resolution support
2 Paid license required
3 Depending on specifications of the hard disk
Built-in Cinema Audio Processor for SR-1000