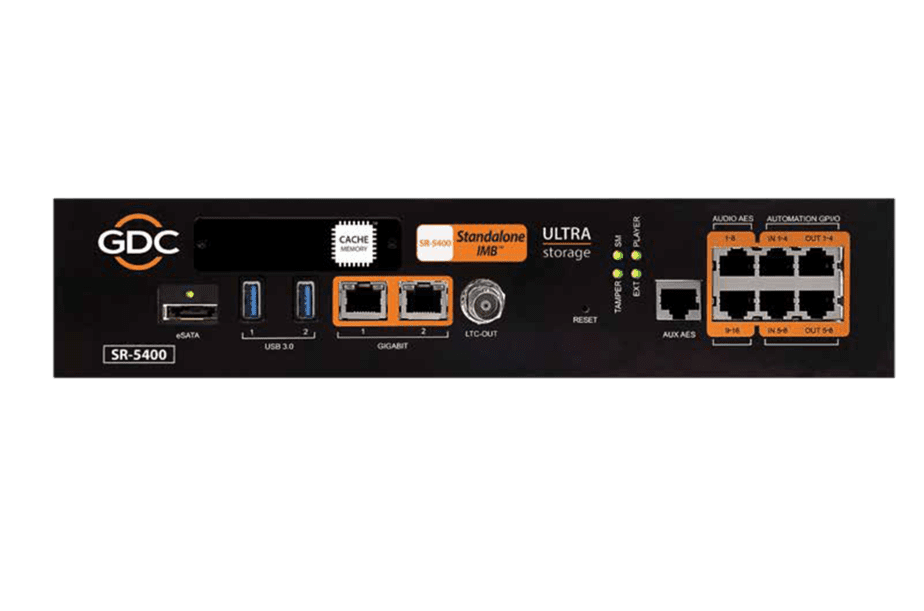 Standalone Integrated
Media Block™
SR-5400
The ultra-reliable IMB with FAST (Flexible Architecture Stable Technology)
for advanced cinematic imagery
In 2012, moviegoers were introduced to a new filmmaking technique to show greater detail. GDC supported this high frame rate (HFR) technology by introducing solutions for cinemas worldwide to playback the filmmaker's intent. The SR-5400 IMB Series continues the company's passion to constantly improve the moviegoing experience by providing an affordable solution with advanced features to enhance the imagery. The SR-5400 IMBs, the next generation of GDC's ultra-reliable SR-Series, are designed for near-zero maintenance and minimal total cost of ownership.
The SR-5400 Series is designed with diskless CineCache (built-in cache memory). Content playback can be performed without the need of local HDD storage.
Supports the playback of thousands of movies
Take full advantage of show scheduling with Ultra Storage technology which enables the playback of over 2,000 movies when combined with Cinema Automation CA2.0.
Ultra-reliable SR-Series media servers with built-in embedded power electronics used in medical and military products ensuring the overall system stability.
Compatibility with next generation DLP Cinema® projectors
The SR-5400 Series is capable of playing DCP content in 4K 3D and up to 4K@96 fps and seamlessly integrates with the next generation of DLP Cinema projectors.
User-friendly and intuitive web-based user interface with wireless access
The web-based UI is user-friendly and intuitive. With drag-and-drop, filtering and navigating functions, operators can easily switch between tabs or pages. Other than accessing the UI through a computer or a laptop, wireless access is also enabled by using mobile devices such as a smart phone or a tablet.
# For Christie integrated model SR-5400C. Specifications may vary for other projector vendor integrations.
1Depending on specifications of the hard disk.
2Check with GDC on specific frame rate & resolution support.
Remark: DLP and DLP Cinema are registered trademarks of Texas Instruments.