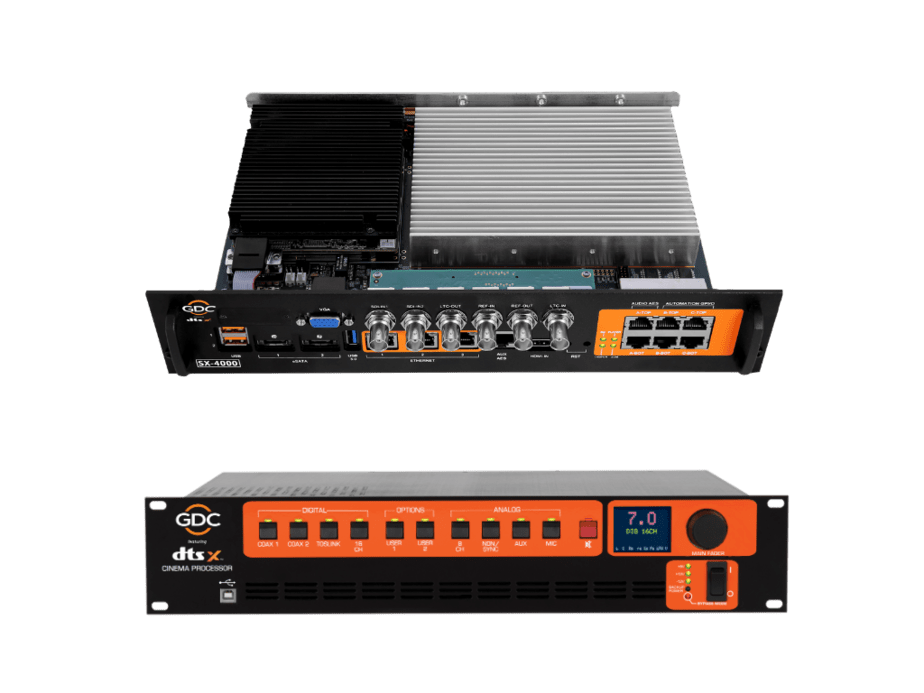 DTS:X™ Immersive Audio Solution
NEW!
IAB support
is available
DTS:X™ real-life, rich and immersive sound that moves around in the theatre
GDC SX-4000 Standalone Integrated Media Block™ is designed to anticipate the future of digital cinema sound. When combined with the 16-channel XSP-1000 Cinema Audio Processor (GDC Immersive Sound Solution), it supports 5.1/7.1 surround sound and the option for real-time decoding to playback DTS:X immersive sound. The option enables a high-quality audio experience at a price point that allows exhibitors worldwide to affordably install immersive sound in any size auditorium to deliver realistic, rich sound to a much broader audience. DTS:X delivers true cinematic immersion with best-in-class partners including Samsung Onyx LED, ScreenX and IMAX® Enhanced. Today, DTS:X is installed and committed in over 1,000 screens worldwide, including the world's first and largest Samsung Onyx LED Cinema Screen with DTS:X.
Starting in 2020, SX-4000 would fully support SMPTE's ST 2098-2 immersive audio bitstream (IAB) standard, which represents a major milestone toward the goal of delivering a single interoperable audio format for theatrical distribution. Supporting SMPTE's IAB will bring even more immersive content to the big DTS:X screens worldwide – exactly as the filmmaker intended.
Key Benefits of SX-4000 Standalone Integrated Media Block™
GDC SX-4000 Standalone Integrated Media Block (IMB) is designed to future-proof today's digital cinema.
Next-generation design and hardware, which enables faster processing speed for handling tasks more quickly. This additional processing power opens options for advanced integration, theatre automation, and other value-added capabilities.
Total 16 audio channels / outputs.
Ability to handle high-quality live streaming contents such as MPEG4, MPEG2 in 2D or 3D.
Faster I/O interface such as USB3.0 for faster content ingestion and "live play" from storage devices in emergency situations.
Additional Gigabit LAN port that can be used for dedicated ingest, theatre automation, and other external devices.
Upmix capability from 5.1/7.1 to 16 channels for alternative and pre-show contents.
Built-in full 16 channel immersive sound DTS:X decoder with IAB support (optional).
Supports SMPTE's "Digital Sync Signal and Aux Data Transfer Protocol" standard (ST 430-14:2015) and SMPTE's Immersive Audio Bitstream (IAB) standard ST 2098-2 (optional).
Key Benefits of XSP-1000 Cinema Audio Processor
GDC XSP-1000 Cinema Audio Processor offers 16-channel digital audio processing specially designed for cinema application.
Low noise digital processing with up to 96 kHz sample rate to ensure superb presentation.
Robust audio processing engine consisting of audio gain, EQ, and delay controls for accurate theatre calibration.
Runs on Windows operating systems, allows for complete system configuration, monitoring and firmware upgrades over USB and Ethernet.
Supports multiple immersive sound formats.
SX-4000 Standalone Integrated Media Block
XSP-1000 Cinema Audio Processor