PVR Cinemas Selects GDC to Upgrade Cinema Technology
Companies Sign Monumental Agreement at CineAsia 2022
BANGKOK, December 7th, 2022 — India's leading multiplex chain, PVR Cinemas (PVR) today announced that it has signed one of the largest agreements announced at CineAsia 2022 with GDC Technology Limited (GDC), a leading global provider of digital cinema solutions. The agreement encompasses the deployment of GDC's SR-1000 Standalone Integrated Media Block™ (IMB) with built-in features including cinema audio processor and CineCache™ memory to ensure an exceptional moviegoing experience with its near-zero maintenance and innovative technologies.
The agreement involves both the replacement of legacy media servers with the GDC's SR-1000 IMB at existing sites as well as installations at upcoming projects by PVR. The attractive features such as CineCache and cinema audio processor, and the 100,000 hours MTBF reliability of SR-1000 IMB are the key factors in selecting GDC's SR-1000. In addition, the CineCache feature allows full-speed ingests of a movie in approximately 30 minutes during playback; a highly efficient way of operating the cinema multiplex that cannot be found in other products. PVR will be deploying SR-1000 with built-in cinema audio processor including DTS:X for IAB immersive audio solution.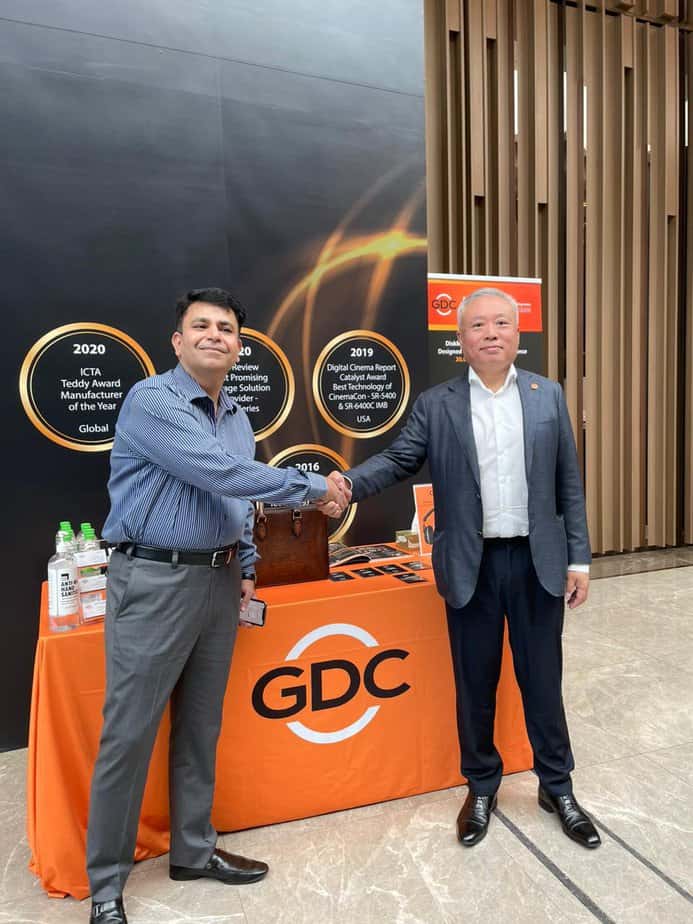 Left: Mr. Pramod Arora, Chief Growth and Strategy Officer of PVR Limited
Right: Dr. Man-Nang Chong, founder, chairman, and CEO of GDC Technology
"When it comes to the quality of our presentation, we have always selected equipment and solutions that deliver our promise of providing an exceptional & immersive on-screen experience to our patrons each time & every time", said Pramod Arora, Chief Growth and Strategy Officer of PVR Limited. "We selected GDC for its vast portfolio of cinema products & services, enabled with advanced technology, so as to delight our customers with a memorable experience. Besides, GDC solutions would also help us achieve superior operational efficiencies and controls."
"SR-1000 was developed from our 20-year knowledge of digital cinema and constantly working with our exhibitors. PVR will be provided with technology that is ahead of its time, solving operational issues with solutions designed for today's and tomorrow's digital cinema world," said Dr. Man-Nang Chong, founder, chairman, and CEO of GDC Technology. "We are pleased to work with PVR and we look forward to working together to spread their passion to consistently deliver a memorable shared experience."
About GDC Technology Limited
GDC Technology Limited ('GDC') is a leading digital cinema solutions provider with its manufacturing facility certified with ISO 9001:2015 by SGS. GDC develops, manufactures and sells cinema projector, media server for both projector and LED cinema display, content storage system, cinema enterprise software including theatre management system and advanced cinema automation system for the global cinema industry. GDC is a licensee of the DTS:XTM object-based immersive sound technology from DTS, Inc. for the development of its media servers. In addition, GDC also provides a suite of digital cinema products and services, including LED cinema, 3D product, audio equipment, projector lamp, Supra 4.0 high-gain and high-contrast screen, post-production service, Electronic Delivery System (EDS).
About PVR Limited
PVR is the largest and the most premium film exhibition company in India. Since its inception in 1997, the brand has redefined the way entertainment is perceived in the country. PVR currently operates a cinema circuit comprising of 884 screens at 178 properties in 77 cities (India and Sri Lanka), serving over 100 million patrons annually. Since its inception in 1997, the brand has redefined the way out-of-home entertainment is consumed in the country. The Company offers a wide range of cinema services such as child friendly audis, the latest screening technology, superior sound systems, wide range of F&B offerings, diverse content for regional movie goers, an array of formats in the premium screen category such as Director's Cut, LUXE, Sapphire, IMAX, 4DX, P[XL], Playhouse and PVR Onyx.
Trademarks  
Standalone Integrated Media Block is a trademark of GDC Technology Limited. All other trademarks are the property of their respective owners. 
GDC Media Contact: Tony Adamson 
Email: [email protected] 
Phone: +1 (214) 686-0491 
PVR Media Contact: Deepa Menon
Email: [email protected]       
Photo: Mr. Pramod Arora, Chief Growth and Strategy Officer of PVR Limited &
Dr. Man Nang Chong, founder, chairman, and CEO of GDC Technology                    
SOURCE: GDC Technology
###