GDC Trade-In Trade-Up Program Replacing Legacy Media Servers of Your Cinema Projector with SR-1000 IMB
Replace your legacy media servers with
SR-1000 IMB with a built-in cinema audio processor and save!
The existing cinema media servers / cinema audio processors at the end of their life cycle? If you answered yes to this question, it is time to make a sound investment!
With GDC's Trade-In Trade-Up Program, exhibitors can trade-up any legacy media server models of  Barco, Christie and NEC projectors with a future-proof GDC SR-1000 Series DCI media server/IMB with a built-in professional cinema audio processor with crossover to deliver 5.1 and 7.1 PCM uncompressed surround sound.
As and when you need the cinema audio processor embedded in SR-1000 media server, you can procure the software license remotely with a click of button, exhibitors do not need to purchase an external audio processor separately. Launched in late 2020, the built-in cinema audio processor is available in SR-1000 now.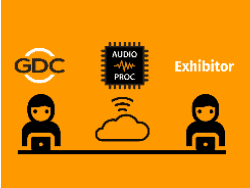 Both audio and video features can be configured and controlled through the easy-to-use web-based GUI. It allows users to access control via network remotely improving operating efficiency.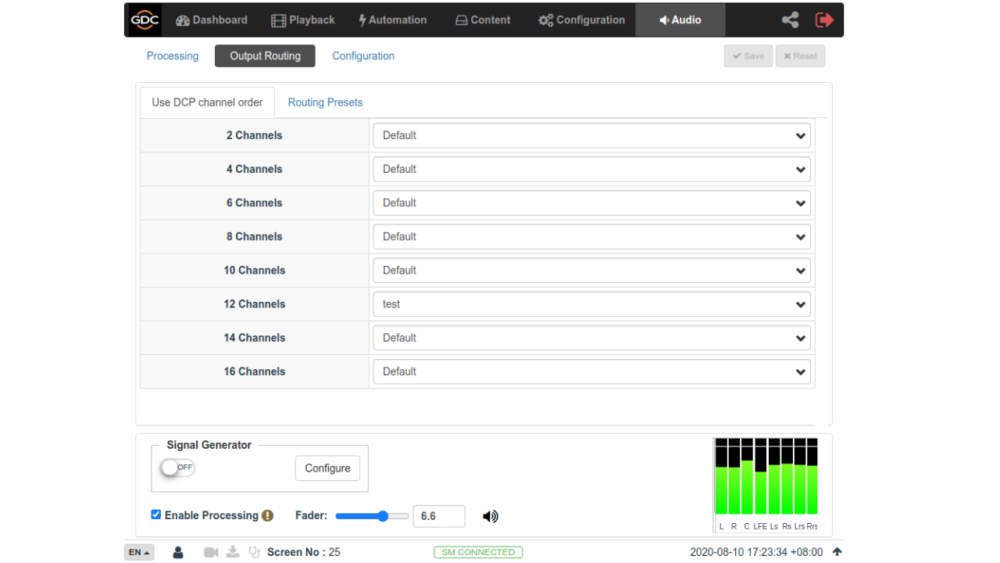 What if I use analogue amplifiers or external audio equipment?
The SR-1000 with a built-in 5.1/7.1 cinema audio processor can either be used directly with digital amplifiers or analogue amplifiers with an Audio IO (Input-Output) Box AIB-2000.
GDC's AIB-2000 is a built-in 8-channel premium quality digital-to-analogue converter (DAC) used to interface with external audio equipment such as analog amplifiers, booth monitor, microphone, blu-ray player, and MP4 players. At the same time, AIB-2000 is a networked product, which allows the switching of input sources via Ethernet.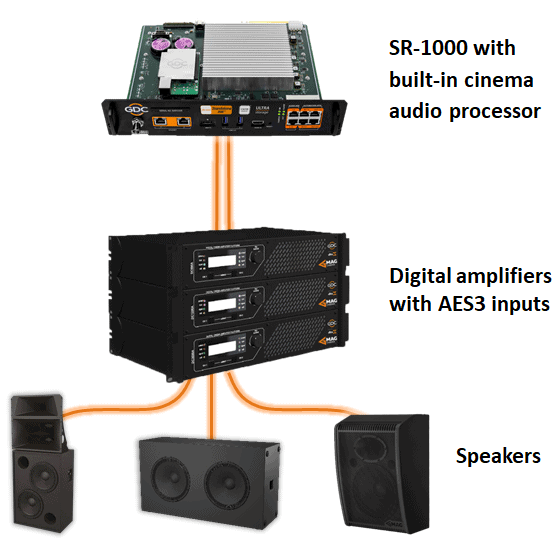 SR-1000 can work directly with digital amplifiers with AES3 inputs. The solution offers simple wiring and the purest digital sound not "contaminated" by compression.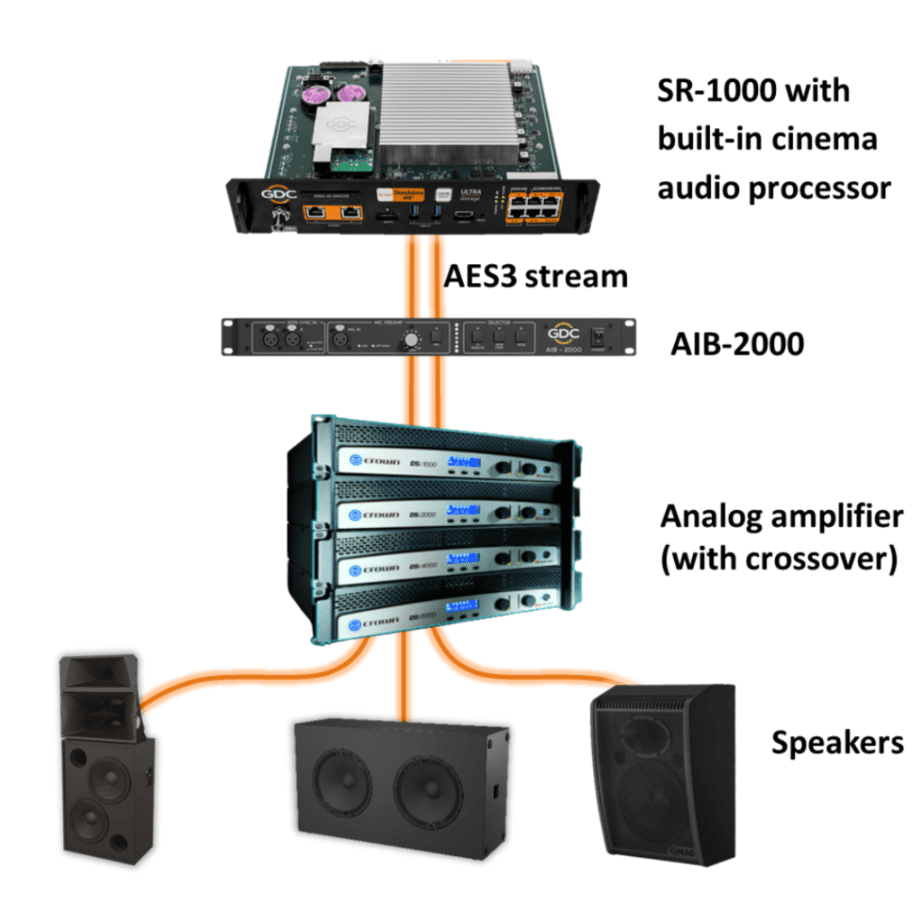 When SR-1000 works with analog amplifiers, an Audio I/O Box AIB-2000 is needed for digital-to-analog conversion. 
* The actual system configuration may vary depending on specific application requirements, please contact GDC for further details
GDC offers a wide variety of storage options as part of the upgrade. The SR-1000 media server can ship with integrated CineCache™ 2TB storage or with GDC's Enterprise storage, capable to expand to 32TB of RAID-5 storage.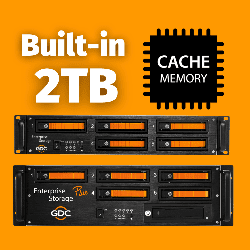 Can I upgrade to immersive audio?
Also, GDC supports an upgrade path with the SR-1000 to have up to 24 channels of DTS:X featuring IAB immersive audio and a built-in 16-channel cinema audio processor. Please get in touch with your local GDC sales representative for more details.