Espedeo Supra-5000 Update: Upcoming Features.
More installations. More applications. More awards.
Launching Espedeo Supra-5000 RGB plus laser phosphor cinema projector in 2021 was timely as the emerging market for mini-theatres and boutique cinemas is booming globally. Today, the Supra-5000 projector demonstrates the best possible projection system for mini-theatres and alternative venues since it is classified as Risk Group 2, safe for installations inside the room without a hush box. Currently, Supra-5000 has been installed in Australia, Belgium, Brazil, Croatia, France, Germany, Hong Kong, India, Italy, Japan, Korea, Mexico, Oman, Russia, Singapore, Spain, Sweden, Switzerland, Taiwan, UAE, UK, Ukraine, and US in a variety of event venues:
Commercial Cinema
Screening Room
Lounge and Restaurant
Kid's Theatre
Dining Cinema
Luxurious Home Theater
Holiday Resort
Condominium Private Cinema
Yacht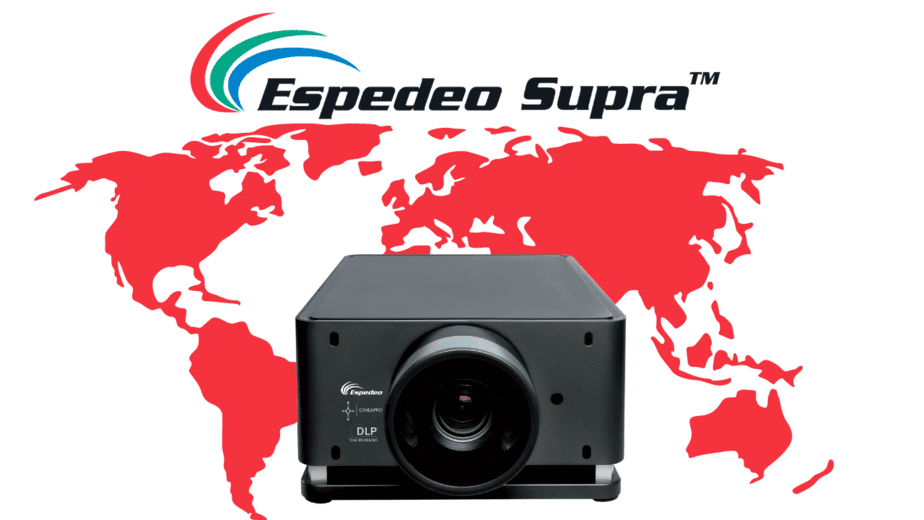 The 2020 Red Dot Award-winning Supra-5000 projector received several prestigious awards in 2021 from home theater and AV tradeshows. The multi-awarding device received the "Best of Show" from Residential Systems and TWICE, along with the "Best of Show" from ProjectorCentral.com's Projection Expo 2021. The winners were selected by a team of industry judges from each respected publication.
Espedeo Supra-5000 keeps getting better and better
To meet the needs of various customer applications, the Espedeo company offers three products specially developed for the installations of Supra-5000:
There are three types of lenses available from the newly launched long-throw lens 1.58-2.49:1 to 1.28-1.92:1 and the short-throw lens 0.8:1.
The Espedeo VM-1140 VESA Ceiling Mount is designed for in-auditorium installation. The height, rotation, and tilt of the ceiling mount are adjustable to fit various installation environments. It offers a cable management feature, conceals and organizes the cables connected to the projector, creating a visually pleasing work environment for your screening areas. The Espedeo VM-1140 can either be used to install Supra-5000 from the ceiling or fasten it to a truss using the optional truss mounting clamp provided.
The Espedeo PM-2000B 3D Polarized System is a standalone 3D polarized system perfect for realistic and fully immersive 3D movie experience by offering unique polarized light technology, luminous efficiency reaches over 30% with customized single beam. It is suitable in any orientation whether fixed on a pedestal or hung on a ceiling. Combined Espedeo PM-2000B with Espedeo passive 3D glasses, you'll experience vivid and lifelike 3D imagery with bright accurate colors.
Accessories for Espedeo Supra-5000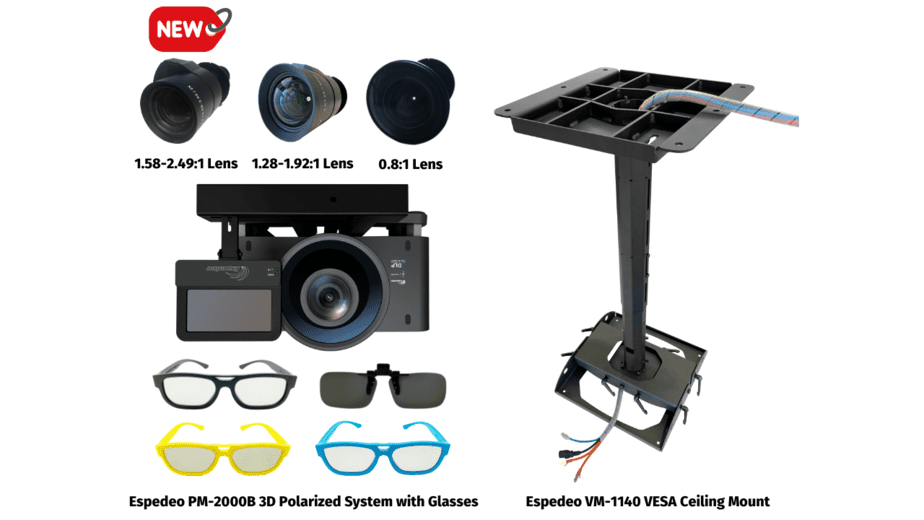 Espedeo Supra-5000 featuring DTS:X™ Immersive Audio Solution
In addition to a built-in option for a 5.1 / 7.1 cinema audio processor, Espedeo will soon introduce the option of a 16-channel DTS:X immersive audio solution* that supports SMPTE's immersive audio bitstream (IAB) standard. A built-in 15.1 cinema audio processor is available to replace an external cinema processor for a DTS:X installation. When the auditorium is enabled with DTS:X immersive audio solution, audiences can immerse themselves with a truly realistic cinematic 360° audio experience, just as the filmmaker intended.
* HI/VI output is not available when outputting more than 14-channels of DTS:X audio.