GDC Technology Debuts DCI Adopted MXF JPEG2000 Upgrade Kit With 3D and MXF MPEG2 Playback Capabilities
SHOWEST, Las Vegas (March 13, 2006) – GDC TECHNOLOGY, the leading provider of digital cinema solutions today unveils the new MXF JPEG2000 Upgrade Kit for SA1000 DSR™ Digital Film Server.
The MXF JPEG2000 Upgrade Kit contains a single board that enables the existing SA1000 Servers to playback 3D movies and movies encoded using both the MXF MPEG2 and MXF JPEG2000 formats. The Upgrade Kit also incorporates the latest DCI security requirements such as security system clock to ensure playback times and event log time stamps are time-accurate and secure.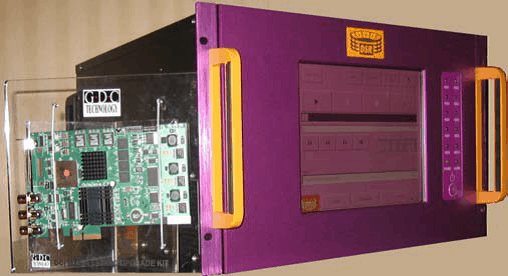 To minimize the disruption to the D-Cinema exhibition business, GDC TECHNOLOGY has taken the important step of ensuring its D-Cinema Server – SA1000 maintains backward compatibility; this is achieved by supporting multiple D-Cinema formats such as DSR™ MPEG2, MXF MPEG2 and MXF JPEG2000. SA1000 Server allows users to benefit from using the most reliable and currently most widely supported DCinema format – MXF MPEG2, while waiting for DCI to approve a compliance test procedure. With the replacement of a card in SA1000 Server with MXF JPEG2000 Upgrade Kit, exhibitors are assured of their investment in D-Cinema equipment.
Besides playing back D-Cinema content in JPEG2000 format, the same SA1000 Server allows the exhibitors to show live-events and alternative content in D-Cinema quality MPEG2 format without adding another piece of equipment in the projection booth. SA1000 Server also has the DVB-ASI receiver/decoder capability for receiving the broadcast quality live HDTV broadcast via satellite or network.
GDC TECHNOLOGY has the experience of upgrading its worldwide MPEG2 Servers installed in D-Cinema theatres to meet MXF MPEG2 requirements set out by Hollywood studios in July 2005. GDC TECHNOLOGY understands the painstaking process in continual upgrades of D-Cinema Server; as such GDC TECHNOLOGY believes there should only be one final upgrade of the server to meet DCI specifications when DCI Compliance Test Procedure is available. GDC TECHNOLOGY's JPEG2000 Upgrade Kit will be launched at the ShoWest convention in Las Vegas, March 13–16, 2006. Once the interoperability of JPEG2000 servers is achieved with DCI Compliance Test Procedure, GDC TECHNOLOGY will provide its JPEG2000 Upgrade Kit to its worldwide customers in Q3 2006. SA1000 Server also has the option to playback 3D content in the same box and such 3D option will remain available after the JPEG2000 upgrade.
With over 500 active digital screens worldwide, GDC Servers have been considered the best choice for exhibitors seeking painless transition from analogue 35mm film to digital presentation.
* * * * * * * * * * * * * * * * * * * * * * * * * * * * * * * * * * * * * * * * * * * * * * * * * * * * * * * * * * * * * * * * * * * *
About GDC TECHNOLOGY Private Limited
GDC TECHNOLOGY Private Limited is a Singapore incorporated company. It is a subsidiary of the Hong Kong Public Listed Company – Global Digital Creations Holdings Limited. GDC TECHNOLOGY pioneers
digital post-production, delivery and presentation technologies. Known for its commitment to innovative engineering work, quality products and state-of-the-art TECHNOLOGY, GDC TECHNOLOGY offers solutions on film transfer, post-production, delivery and presentation of digital content.
GDC TECHNOLOGY has successfully delivered and installed more than 500 digital/electronic cinema theatres in Africa, Europe, Hong Kong, India, Korea, Singapore, Taiwan, Thailand and US. More than 200 full-length feature films have been released digitally on GDC TECHNOLOGY servers. GDC TECHNOLOGY installed the world's first 2K digital cinema multiplexes with DSR™ Cineplex Central Server in Singapore; each digital cinema multiplex has an average of five 2K digital cinema screens where digital content is streamed real-time from DSR™ Cineplex Central Server.
For a list of encoding sites or more information on GDC TECHNOLOGY, visit www.gdc-tech.com.
Media Contact:
Ms Cherine Liu
GDC TECHNOLOGY Private Limited
70 A/B Amoy Street, Singapore 069889
Tel: +65 6222 1082
Fax: +65 6222 1089