GDC Technology Enhances Its Line Of DSR™ Servers Capabilities With Launch Of Synchronized Playout Technology
IBC, Amsterdam (September 11, 2004) – GDC Technology, a leading provider of digital cinema solutions introduces a new feature – synchronized playout for its line of DSR™ Servers. Traditionally used in theatres only, the server range of products, namely SA1000 DSR™ Digital Film Server and SZ1000 DSR™ Z Server could be the latest digital solution for three-dimensional (3D) films and multi-screen theatre presentation in museums and theme parks.
DSR™ Servers now have the ability to genlock to various formats of content, providing ease of integration for 3D films and multiple-screen presentation, commonly found in theme parks and museums. More than 10 DSR™ Servers can now be configured as synchronized servers for applications in complex theatrical presentations.
One of the latest additions to GDC Technology's growing list of customers now includes the Deng XiaoPing Memorial Museum. Along with the China Research Institute of Film Science and Technology (CRIFST), GDC Technology successfully installed a synchronized, multiple-server system in the museum. This enabled China's first 4k digital cinema theatre comprising multiple projectors synchronized by multiple servers with single frame accuracy.
The 4K (3840 X 1024) images, encoded using EN1000 – DSR™ Digital Film Agile Encoder, are projected with 3 DLP Cinema™ projectors (1.3K each) in synchronization on the large screen, using 3 DSR™ Servers.
*Note: DLP Cinema is trademark of Texas Instruments
* * * * * * * * * * * * * * * * * * * * * * * * * * * * * * * * * * * * * * * * * * * * * * * * * * * * * * * * * * *
About GDC Technology Private Limited

GDC Technology Private Limited is a Singapore incorporated company. It is a subsidiary of the Hong Kong Public Listed Company – Global Digital Creations Holdings Limited. GDC Technology pioneers digital post-production, delivery and presentation technologies. Known for its commitment to innovative engineering work, quality products and state-of-the-art technology, GDC Technology offers solutions on film transfer, post-production, delivery and presentation of digital content.
GDC Technology has successfully delivered and installed more than 200 digital/electronic cinema theatres in China, Hong Kong, India, Korea, Singapore, Taiwan, Thailand, United Kingdom and US. More than 80 full-feature digital films have been released using GDC Technology's DSR™ Digital Film Agile Encoder. GDC Technology installs the world's first 2k digital cinema multiplexes with DSR™ Cineplex
Central Server in Singapore; each digital cinema multiplex has an average of five 2k digital cinema screens.
For more information on GDC Technology, visit www.gdc-tech.com.
Media Contact:
Ms Sharon Ang
GDC Technology Private Limited
70 A/B Amoy Street, Singapore 069889
Tel: +65 6222 1082
Fax: +65 6222 1089
Photograph 1: Deng Xiaoping Memorial Museum 4k digital cinema theatre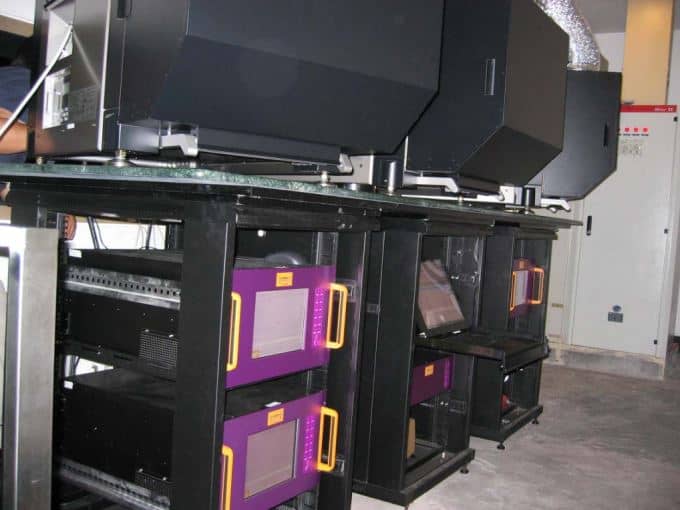 Photograph 2: GDC Technology's synchronized multiple-server system