GDC Technology And Essel Shyam Communication All Set To Transform Indian Film Industry Through Satellite Delivery Of Movie To Electronic Theatres
Beijing, China (25 August 2004) – The leading developer of digital cinema solutions – GDC Technology and China Research Institute of Film Science and Technology (CRIFST) successfully delivered a synchronized multiple-server system to Deng Xiaoping Memorial Museum on 13 August 2004. The Museum acquired GDC Technology three-server system for China's first 4k digital cinema screen using three DLP Cinema™ projectors with a combined native picture resolution of 3840×1024 pixels.
From 13 – 25 August, more than hundred of thousands of visitors have watched the Deng Xiaoping's life documentaries in 4k (3840×1024) picture resolution at Deng Xiaoping Memorial Museum which is located at Guangan, Sichuan – the hometown of Deng Xiaoping. There are more than twenty shows per day beginning from 8:30AM to 5:00PM.
CRIFST designed and built China's first 4k digital cinema theatre utilizing multiple projectors that are synchronically driven by multiple servers with single frame accuracy. CRIFT was also responsible in taking the artistic direction from the directors of photography and converting all the Deng Xiaoping's life documentaries acquired on celluloid films into 4k digital pictures. The 4k digital pictures were encoded in the native 4k resolution using GDC Technology's EN1000 – DSR™ Digital Film Agile Encoder.
The 4k resolution images were playout in synchronization with single frame accuracy on the large digital screen using three GDC Technology's DSR™ Servers which have the ability to genlock to various types of video input, providing ease of integration for multiple-screen cinema application typically found in theme parks and museums. More than ten GDC Technology's SA1000 DSR™ Digital Film Server and SZ1000 DSR™ Z Server can be configured as synchronized servers for multiple-screen cinema theatre.
* * * * * * * * * * * * * * * * * * * * * * * * * * * * * * * * * * * * * * * * * * * * * * * * * * * * * * * * * * * * * * * *
About GDC Technology Private Limited
GDC Technology Private Limited is a Singapore incorporated company. It is a subsidiary of the Hong Kong Public Listed Company – Global Digital Creations Holdings Limited. GDC Technology pioneers digital post-production, delivery and presentation technologies. Known for its commitment to innovative engineering work, quality products and state-of-the-art technology, GDC Technology offers solutions on film transfer, post-production, delivery and presentation of digital content.
GDC Technology has successfully delivered and installed more than 80 digital cinema theatres in China, Hong Kong, Korea, Singapore, Taiwan, Thailand, United Kingdom and US with more than 60 full-feature digital films released. GDC Technology installs the world's first 2k digital cinema multiplexes with Cineplex Central Server in Singapore; each digital cinema multiplex has an average of five 2k digital cinema screens.
For more information on GDC Technology, visit www.gdc-tech.com.
Media Contact:
Sharon Ang
GDC Technology Private Limited
70 A/B Amoy Street, Singapore 069889
Fax: +65 6222 1089
Photograph 1: Deng Xiaoping Memorial Museum 4k digital cinema theatre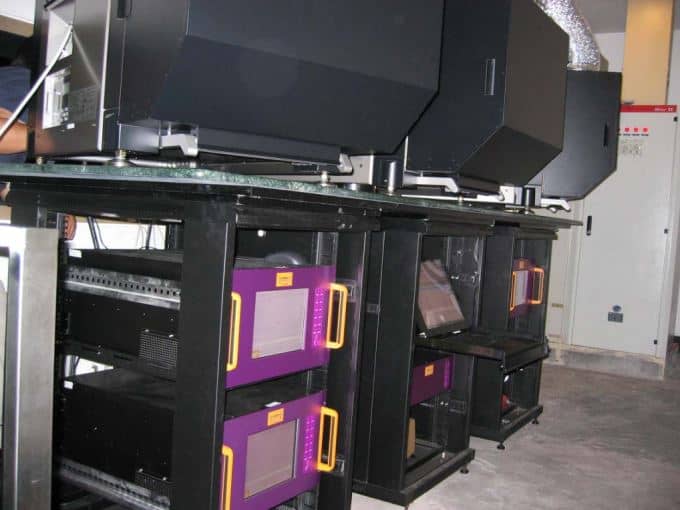 Photograph 2: GDC Technology's synchronized multiple-server system