GDC Technology Ltd Well Received In Cineasia 2002 As A New Player In The Digital Cinema Industry
GDC Technology Ltd well received in CineAsia 2002 as a new player in the Digital Cinema Industry.
GDCs' CEO Dr. Man Nang Chong was invited by the organizers of ITEA (International Theater Equipment Association) and CineAsia to speak in the technical seminar on "Digital Update" alongside with speakers from leading firms in theater equipment systems and technology. Other imminent speakers of the seminar included Mr. Doug Darrow of Texas Instruments, Mr. Yang Chen of China Film Group and Mr. Frank Sterling of The Boeing Company.
CineAsia 2002 was the ninth edition of the event which organizes conventions and trade shows for the Asia Pacific Motion Picture and Theater Industry. The seminar presented a vision for the future of film business in Asia. Dr Chong shared his experiences on the development in digital cinema technology and industry. The seminar was followed by a lively question & answer session where people showed their keen interest in the new technologies. The seminar was attended by distributors, exhibitors, equipment vendors and policy makers from all over Asia.
There was a lot of enthusiasm expressed on DSR™ digital film server-it being the only software based server with MPEG 4:2:2 capability. All showed an eagerness for the next roll out of DSR™ server with JPEG2000 capability.
GDC also indicated on its international marketing plans in 2003 and its interest in active participation in international events like ShoWest that is to be held in March, 2003 in Las Vegas.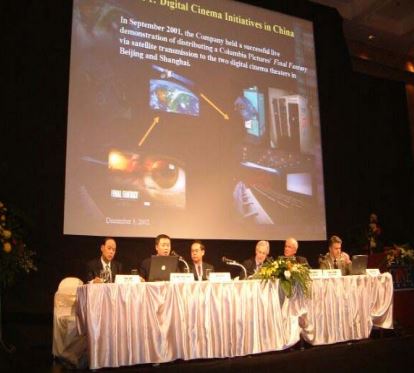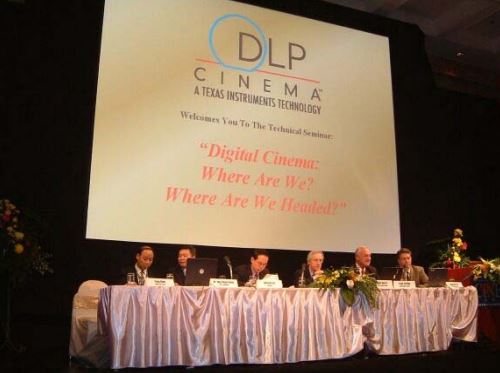 * * * * * * * * * * * * * * * * * * * * * * * * * * * * * * * * * * * * * * * * * * * * * * * * * * * 
Hong Kong:
Ms. Raina Lodha
GDC Technology Limited
Fax. +852 2579 1131
Email: [email protected]
China
Ms. Sharmir Qin
IDMT (Shenzhen) Limited
Fax. +86 (755) 2655 7677
Email: [email protected]
Singapore
Ms. Sharon Ang
GDC Technology Private Ltd
Fax. +65 6222 1089
Email: [email protected]