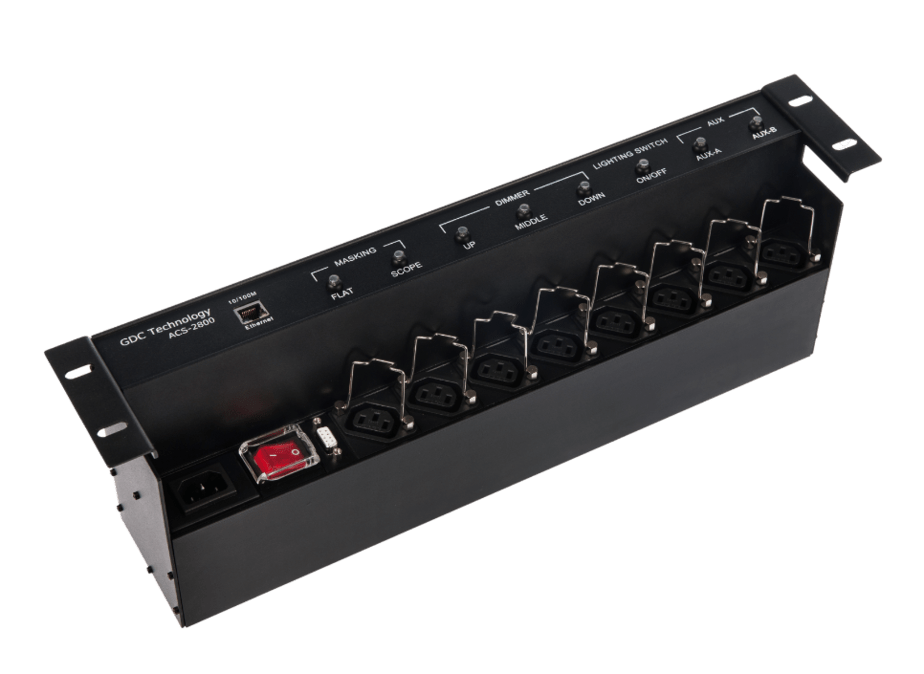 Automation Control System
ACS-2800
An efficient, user-friendly automation product for digital cinema screening
The GDC ACS-2800 is an automation product specially designed for digital cinemas to help exhibitors to achieve automatic control of their screening equipment with maximum e­fficiency.
The integrated aluminum alloy structure makes it light in weight and stable for placing. It replaces the traditional wall-mount design for easy in installation and also saving the room space. This is ideal for savvy users who prefer compact booth or even boothless projection.
Pluggable wiring connectors replace the traditional terminal block, which simplifies the procedure of installation and replacement. It brings high effi­ciency on theatre operation.
Multiple Options of Control
This device can be controlled in multiple ways. GPIO and network port allow the control from other integrated system through programmable control instruction. The control buttons with LED lights on the front panel allow for manual control at any time.
Integrated Dimmer (Optional)
This ACS-2800 offers optional dimming control module, which is recommended for new theatres or theatres without dimmers. The optionally integrated digital sine-wave dimmer brings excellent performance without interference and noise to the electric circuit especially to the audio equipment.
This ACS-2800 comes with device management software and network control protocols for integration with 3rd party systems. The control command is simple and for minimal effort on programming.